The rumors are true – the Nokia 3310 is back, and it even has Snake. The updated version of the early noughties icon, famed for its seemingly indestructible qualities, was unveiled at the Mobile World Congress in Barcelona on Sunday.
Anticipation of the device, a phone that doesn't even have 3G, has been high ever since news of its release leaked earlier this year. The relaunched 3310 is produced by new mobile firm HMD Global, which licensed the Nokia brand last year. HMD is filled with key ex-Nokia people, and the phone appears to have lost none of the charm and identity of the 17-year-old original.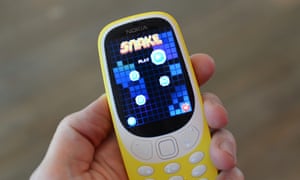 "This is what consumers have been asking us for, and so we decided that we'd just do it and have some fun with it, said Florian Seiche, president of HMD. "That's the unique opportunity we have here at HMD with the Nokia brand."
The phone has a slightly bigger screen than its namesake, and in colour this time. It also has a camera on the back, which the original did not. It does have a removable back cover and battery, and runs an updated version of the original's S30 software. The software behaves so much like the original and followups you might think you were caught inside some sort of time loop. The phone will cost about €50 (£42) when released in the second quarter of 2017. The original cost in 2000 was £129.99 on pay as you go.
HMD promises that the new Nokia 3310 will be as durable as the old one, often seen as practically indestructible by the teens of the 2000s. The new 3310 is about half the thickness of the original and has 10 times the talk time, with 22 hours, and twice the standby time: one month – a duration almost unheard-of in 2017.
It's charged via microUSB, so there's no need to carry the pin Nokia charger of old, and there's even a headphones socket in the bottom. Cynics might see the new 3310 as merely a marketing exercise but some analysts are more optimistic. CCS Insight's Ben Wood says that out out of the approximately 20m phones sold in the UK each year, 1m of them are still feature phones such as the 3310.
Wood said: "There is a segment of the population that just wants a basic phone. From the stereotype of builder that just wants to call and text and if it gets broken it doesn't matter, to the festival phone and the backup phone."
Whether nostalgia, the desire for a less connected, but still contactable life or simply a budget phone is enough to drive meaningful sales of the new 3310 remains to be seen. The Nokia brand run by HMD was the number two global manufacturer of feature phones in 2016, with 35.3m handsets shipped for a 9% share of the market, according to data from Strategy Analytics.
Perhaps the most interesting thing the Nokia 3310 tells us is not about feature phones, but rather the state of the smartphone market dominated by Apple and Samsung.
Wood said: "It's an absolutely damning indictment of the state of the smartphone market that the world is so excited and obsessed with a retro feature phone that shipped 17 years ago.
"The 3310 is poised to be the biggest story of Mobile World Congress this year, where we're surrounded by the most cutting edge technology available on the planet. Where phones have artificial intelligence in them, 4K screens that most people don't even have on their TV at home, cameras that are more powerful than we've seen. And we're all getting excited about a 17-year-old feature phone."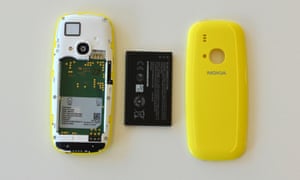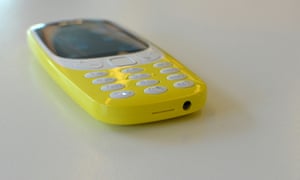 For its part, the 3310 isn't the only phone HMD is unveiling at MWC this year. Three Android-based smartphones, the competitively priced, mid-tier devices the Nokia 6, 5 and 3 – there is no Nokia 4 now nor has there ever been as the number is considered unlucky in China – each with aluminium unibody designs, a bloat-free Pixel-like Android experience and guaranteed updates for two years from release.
HMD hopes to achieve its aim of democratising smartphones and bringing high-end features and quality to mid-tier prices. Chinese rivals such as Huawei are already saturating the market at scale with quality devices.
For Wood, as nice as HMD's new Nokia Android phones are, it's all about the brand. He said: "If someone walks into a shop and they want a mid-tier phone, do they buy a Huawei, or a OnePlus, a Xiaomi or a Vivo or Wileyfox or something else they've never heard of, or a do they buy the Nokia, the brand they know?"
Since you're here …
… we've got a small favour to ask. More people are reading the Guardian than ever, but far fewer are paying for it. Advertising revenues across the media are falling fast. And unlike some other news organisations, we haven't put up a paywall – we want to keep our journalism open to all. So you can see why we need to ask for your help. The Guardian's independent, investigative journalism takes a lot of time, money and hard work to produce. But we do it because we believe our perspective matters – because it might well be your perspective, too.
If everyone who reads our reporting, who likes it, helps to support it, our future would be much more secure.